Adopt • Spay & Neuter • Volunteer • Donate
LifeLine's Fulton County Animal Services (FCAS) provides care for homeless animals, pet adoption services, and enforcement of the animal control laws in Fulton County, Georgia. If you are looking to adopt a dog, cat, puppy or kitten in the Atlanta area, please visit our shelter to see our wonderful pets for adoption!
LifeLine Animal Project isn't your average animal welfare organization. We take a holistic approach to improving the standard of care for animals in Atlanta through our management of the county shelters, adoption programs, spay and neuter clinics, and community outreach efforts.
Since taking over management of Fulton and Dekalb County Animal Services in 2013, thousands of lives have been saved and adoptions have been increased by 300%!
Over 16,000 homeless animals (that's more than 40 a day!) enter our shelters each year. Our goal is to end the euthanasia of healthy and treatable pets. It is a huge, continual effort to find homes for thousands of pets. How do we do it? Read more about how we're transforming Atlanta into a no-kill community here.
Working Cats are an enviromentally-safe and humane approach for feral or semi-feral cats that are happiest living outside. Whether at your place of work or even at your home, outdoor housing can provide feral cats a second chance. Working cats would be safest in areas such as an industrial warehouse, factory, barn or other safe outdoor shelters. They can even help control rodent populations.
Cats available for our Working Cat Program are not suitable to be household companions. Additionally, although they are free-roaming, outdoor cats, working cats still need to be provided shelter, food, water, and vet care.
Working cats can be adopted at no charge and will come fully vaccinated and spayed or neutered. Contact Fulton County Animal Services for more information: This email address is being protected from spambots. You need JavaScript enabled to view it. .
How to Adopt
Browse our pets.
Click into the pet's profile.
Click on the adoption email link for more information!
Click here to download the Foster to Forever agreement.
How to Use
* A computer must be used to fill out the form. It will not work on a mobile device.
After clicking the link above, the file will begin downloading
On the bottom of the browser, click the up arrow (^) on the downloaded file and select "Show in folder".
Open the file in the download folder and fill out the form in its entirety.
Use the "Submit" button on the last page of the form to email the completed form back to This email address is being protected from spambots. You need JavaScript enabled to view it. .
If you are experiencing problems with this form, please reach out to This email address is being protected from spambots. You need JavaScript enabled to view it. .
We have compiled the resources below to aid in your search of solutions to pet ownership challenges that you may be facing. After reviewing the information below, if you still have questions or you're in need of additional guidance, please complete our Pet Help Request form.
---
Low-Cost Spay/Neuter
LifeLine Animal Project offers low-cost spay and neuter surgeries, as low as $40 per pet, at the LifeLine Community Animal Center and College Park Spay & Neuter Clinic. Appointments are offered Monday through Thursday and vaccines can be administered at the of service. Click here for more information.
Stopping Pet Overpopulation Together (SPOT): If you live outside of DeKalb County and cannot afford low-cost spay/neuter resources, you may check here to see if free programs are offered in your county. If your county does not offer a resource to help you, SPOT may be able to help cover the surgery. Call 404.584.7768 for information.
Affordable Veterinary Care
Pet-Inclusive Housing
Paws Between Homes provides temporary foster homes, supplies, and veterinary care to the pets of people who are getting evicted or otherwise losing their housing. They serve low-income households in metro Atlanta.
Finding a home that is inclusive to pets is a great challenge in metro Atlanta. MyPitbullIsFamily.org is a non-profit organization with a mission to end housing and insurance discrimination. My Pit Bull is Family manages the nation's largest database of dog inclusive rentals along with a robust Community Partner database, providing services to families in need and keep pets at home.
PetRelocation.com and AirAnimal.com offer information and services help move pets abroad.
Safety Net Program (Short-Term Pet Foster Care)
If you are facing a crisis and need short-term housing for your pet, LifeLine may be able to help. Our Safety Net program provides temporary homes for pets whose owners are facing hardship. Pets of qualified program participants will be placed in a home with a short-term foster parent until the situation is stable and a reunion can take place. Complete this form to get started.
Free Pet Food
Military Deployment
DogsOnDeployment.org helps people being deployed find temporary homes for their dogs while they are away.
Behavior Challenges & Family Dymanics
Behavior Challenges
Many pet behavior challenges can be managed and corrected through training. These resources contain some actions that you can take on your own to improve your pet's behavior or seek guidance from a training professional.
Learn how to crate train your dog.
Make sure that all the pets in your home are spayed or neutered. Pets who have not been fixed may not get along well with spayed/neutered pets.
GoodPup to provides private dog training with certified trainers who teach cues and advanced behavior on topics like crate training, barking, begging and jumping. Sign up with GoodPup for a FREE week of dog training + 20% off for life, and GoodPup will make a generous donation to help us care for more pets in need.
Frogs to Dogs, a positive-reinforcement dog training organization in the Atlanta area, offers a FREE orientation and 20% discount towards their services for any dog adopted from a LifeLine shelter.
Search for a dog trainer or behavior specialist using the Certified Dog Trainer Directory or Animal Behavior Consultant Search.
Paws Whiskers & Claws offers behavioral assessments for cats.
Positively, the website of LifeLine supporter and world-renowned trainer, Victoria Stilwell, offers training tips for nearly every pet behavior issue.
Integrating Your Pets & Family Members
We understand that family changes, like having a new baby, can be overwhelming. We believe that pets can teach children empathy and compassion, as well as lower kids' stress levels. Many studies show that children who live with pets exercise more, have higher self-esteem, and have fewer respiratory infections than their pet-free peers.
Most pets, children, and spouses require an adjustment period that varies with every situation and can take several weeks or months.
If necessary, keep the pet separated until he feels more comfortable in your home.
LifeLine offers tips on introducing a new dog to your pack.
The ASPCA has information on preparing your dog for a new baby and other topics relating to pets and babies.
Dr. Sophia Yin offers free downloadable flyers on understanding dogs' body language, teaching kids and adults how to approach dogs, and dealing with fearful dogs.
Dealing With Allergies
See an allergist to determine if you have specific pet allergies.
Children may outgrow pet allergies, and many others successfully manage their symptoms and keep their pet in their home. Children with pets are less likely to develop pet allergies.
Create a pet-free area in your home to go to when symptoms act up. Vacuum and clean floors and furniture on a weekly basis.
Place a high efficiency particulate air purifier (HEPA) in the home.
Wash hands, pets, clothing, and bedding materials frequently, including the pet's bed.
Finding a New Home For Your Pet
We hope that the resources above will help to solve any pet ownership challenges that you may be experiencing. However, we understand that these resources are not always successful. If you have determined that you are no longer able to keep your pet, we recommend that you find a new home for your pet. Instead of bringing your pet to an animal shelter, there are many steps that you can take to find a new home for your pet while the pet is still in your care. As the pet's owner, you know them the best! And it will be much easier for you to identify and screen potential adopters for the best home.
Rehoming your pet may not be a quick process; it often takes weeks and sometimes months. Spread the word! The more people who know that your pet needs a new home, the more likely you will find the right home. Tell your friends, family, and co-workers, and ask them to do the same.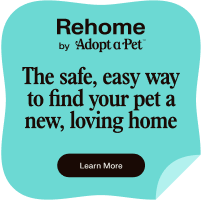 Create An Online Profile
Start by creating an online profile with Rehome.Adoptapet.com. Be sure to include a really cute photo of your pet to attract potential adopters. Your pet's profile will include details such as interactions with other pets, if your pet is spayed or neutered, and a bio describing your pet's personality.
Share your pet's Rehome profile on social media platforms such as Facebook, Instagram, and Twitter, and post in online neighborhood groups on Nextdoor. Ask everyone to help you find your pet a new home by sharing your post!
Remember to think about your pet's individual needs when meeting with potential adopters. Does your dog need a yard to play in? Does your cat prefer special cat litter? This will help you to determine which adopter can provide the best home for your pet.
Make your pet more adoptable by making sure they are spayed/neutered and up to date on vaccines before re-homing them. Our affordable spay/neuter and vet care resources above can help you with this.
Additional Help
Check out these additional re-homing resources from Best Friends Animal Society.
Find a rescue organization willing to take in your pet. Georgia SPOT Society has a list of rescue groups within the Atlanta area. Many of these organizations are composed of volunteers with limited resources so offering a monetary donation to help cover food, shelter, and especially medical expenses will go a long way toward helping your pet get the resources it needs. Please be patient when waiting for a return call as it may take a few days.
If you are in need of additional resources, please complete our Pet Help Request form, found at the bottom of that page, and our team will assist you.